I am sooo happy to say, my etsy shop is featured on
Wildflowers and Whimsy
. This is one of my favorite blogs and I follow it everyday! You should too!!! She has featured some of my absolute favorite items in my store and I am doing a giveaway on there!!! This is so exciting!!!
And to make this day even more exciting, I am featured on
Craft Goodies
. Again this is another favorite blog of mine and follow it daily as well!!!
These ladies are so great and I thank them sooo much for featuring me and helping get my blog out there! My blog has been so much fun to keep updated and it has truely helped me in my every day life. It has given me something that motivates me daily and has helped keep a schedule here at home. It also keeps me creative and has brought out even more creativity in me! And last but not least I have met some amazing women!!!
I can not leave you all without posting something that I have made and love!!!
This tutu and large flower is bright and colorful! It would be perfect for that professional photo session you have coming up or the birthday party!!!
Needed to add this to my post!!!! I am the 100th follower at SAHM and Marine Wife! She is so aweet and I am so glad I could help her out and reach 100!!!!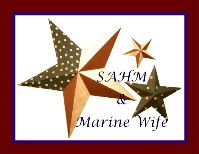 Thank you to Wendy and April!!! And thank you to all of my followers and daily readers!